We Stock A Large Range Of Packaging Products
Visit Our Showroom : Factory 8, 15 Stud Road, Bayswater VIC-3153
Eziloader Ground Level Loading Trailer
Introducing the latest Eziloader Ground Level Loading Trailer, 2V, with a van body. Level Loading Trailer- Eziloader
This Eziloader was made specifically to Ford Australia's specifications for a special project. It is 1800mm wide x 4500mm long x 2300mm high inside the tub, but of course can be made to any size and capacities.
The aluminium van body incorporates a lockable half roller shutter door; lift assisted ramp; powered winch; shelving; front access window; heavy duty galvanized floor; lockable rear function control box.
The lockable front console houses the full size spare wheel; hydraulic power pack; deep cycle battery; electronics and battery charger.
Auxiliary power can be taken from the host towing vehicle, should the internal battery run down
Get in touch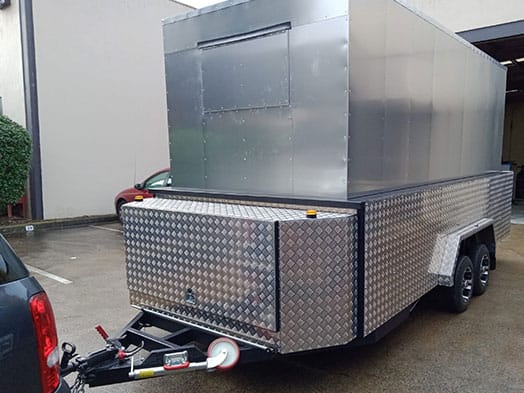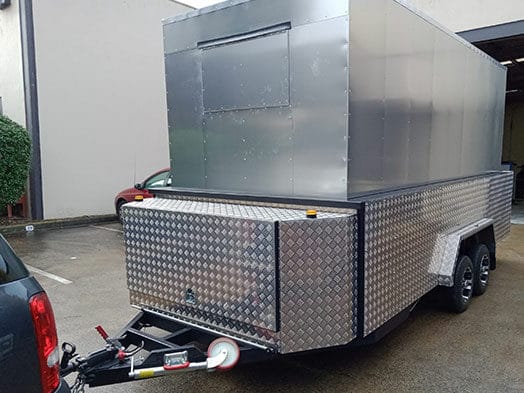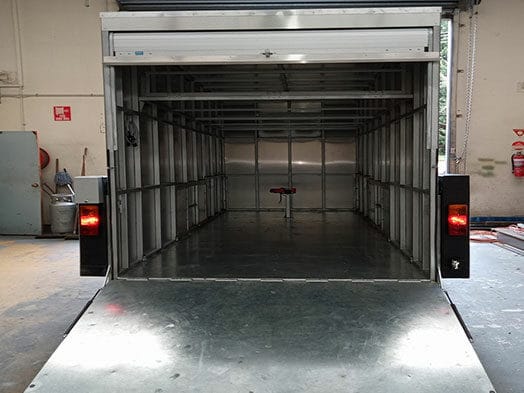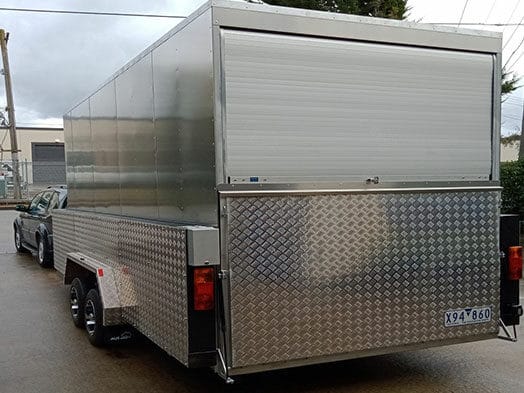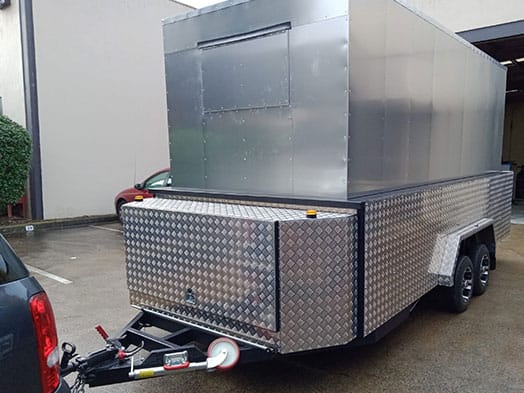 New features include:
Four special self adjusting cylinders instead of three.
Sensor actuated anti-drop lugs.
Sensor actuated automatic lowering procedure.
Four dimensional non friction stability / raise / lower system.
Secondary final guide lock system, binds tub and frame securely.
Extra over-ride spring on the stump jump suspension.
Over 30 years of experience. FREE advice from a knowledgeable team. High quality products at an affordable price. Australia wide sales and service.
Ground Level Loading Trailer- Eziloader
If you're searching for a versatile and trusted ground level loading trailer, then you can't go wrong with the Eziloader.
At Pack King we only provide the very best services and products for our local clients, which is why we are proud to supply a range of premium Eziloader trailers. These durable and dependable trailers can be raised and lowered with the push of a button, with the ramp making it simple and easy to load even the heaviest materials or items. The Eziloader is suitable for everything from transporting pallets and hand pallet trucks, generators, ride-on mowers, or even large white goods and other household appliances.
Eziloader trailers are perfect for both urban and rural use, and they make transporting any equipment a simple and hassle-free process.
Find Out if the Eziloader Trailer is Right for Your Business
To learn more about the wide range of benefits of the Eziloader trailer, or to speak with a friendly and experienced member of the Pack King team, simply pick up the phone and give us a call today.
Contact Us Today
The Revolutionary Trailer with Easy Loading – at Ground Level
Motor bikes

Recovery / delivery. Room for four or more.

Hire equipment

Ride On Mowers. Mini Diggers. Generators.

Palletised goods

Fits 2 pallets plus hand pallet truck.

White goods

Double fridges, stoves, etc.

Farming

1000ltr tanks. Roll-on hay bales, etc.

Household goods

Pianos, wardrobes, dining tables.

Gardening

Large trees, pavers on pallets, statues.

Demonstration equipment
How easy is it to use?
Push buttons, lower the 1500mm wide x 3 Mtr long deck, with 1-tonne load capacity to the ground. The ramp provides easy access, using just a hand pallet truck or trolley if you wish.
Is it safe?
Eziloader has been designed with your safety in mind. It is fitted with manual locking pins, along with sensors to ensure the pins are either fully in or fully out. Only then can the deck be raised or lowered.
Pinch points have been designed out. The operator also faces the rear, meaning s/he sees all potential hazards before lowering or lifting.
Controls only usable by an operator with key or lock code.
All materials used are of the highest quality.
All construction conforms to or exceeds all applicable standards.
What makes eziloader unique?
1. The lowering to floor level for ease and safety of loading and unloading.
2. The raising and locking of the deck to the chassis, using sensors as a safety check.
3. The amazing 'jump stump' dual wheel independent suspension.
4. Special 'phasing' hydraulic cylinders and heavy duty industrial power pack.
What's standard on the eziloader?
6 x removable eyebolts at lower deck level, with upper tie rails on front and sides.
Aluminium chequer plate floor and sides and external cladding.
Red & Silver distinctive finish with Eziloader signage.
Key lockable front console housing hydraulics, electrics and spare wheel.
Trailer wind down fifth wheel for ease of vehicle connection to tow ball.
Brakes to each rear wheel, activated from / by the towing vehicle.
Hand brake with lock on tow bar.
Heavy duty deep cycle battery. Inbuilt charger. Solar panel charging option.
LED lights. Industrial style electrics. Lockable Isolating Switch.
Special hydraulic 'phasing' hydraulic cylinders with industrial hydraulic power pack.
Eziloader is the safest way to load and unload any trailer.
No strains, aches and pains when you switch to Eziloader!
Looking for an adequate solution for your company?
Our inventory is full of useful and specific tools and equipment to help you with your packaging, shipping, and storing processes. And with over 30 years of experience, you can trust that you'll get only the best quality products and superior customer service when you work with us.
Contact Us Today
Some of our happy clients