We Stock A Large Range Of Packaging Products
Visit Our Showroom : Factory 8, 15 Stud Road, Bayswater VIC-3153
Pallet Trucks, Lifters And Stackers
High Lift Pallet Trucks are just like normal Hand Pallet Trucks, and can be used for the same purpose – namely to move palletised goods. The real difference is in the fact that they can also raise the load to 800mm, by either hand pump or battery hydraulic lift.
Optional Skid Pallets
Available for these stackers. Makes them even more versatile. Load the pallet, move the goods, lower the pallet and go. Great for libraries – book deliveries. Cartoned goods. Batteries. etc.
Quotes for door to door delivery or door to port delivery available.
For a complete quote including shipping, contact Ron Mileham on ron@kinggroup.com.au
Get in touch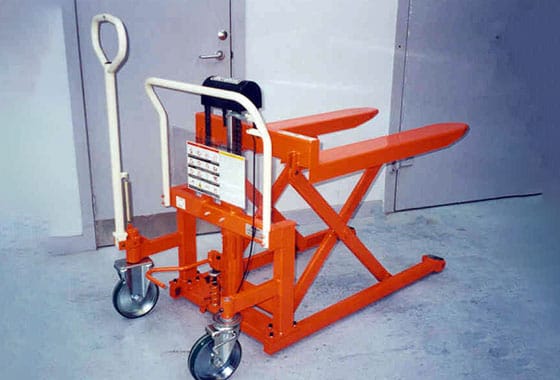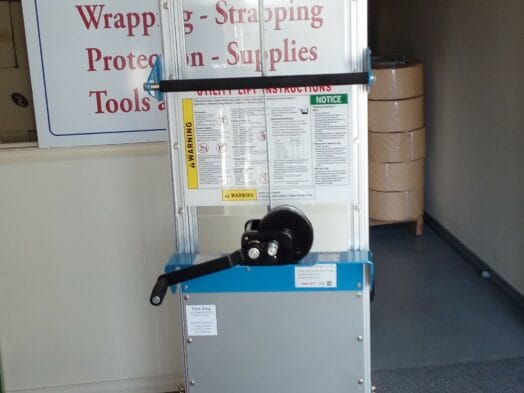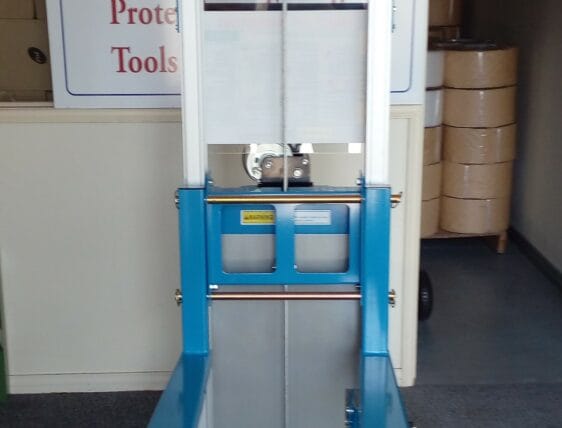 Lifter – Stacker
Description
BR 159 is ideal for lifting objects up high, such as air conditioners or electrical panels, heavy batteries, servers, etc . using only one person. They can then affix the product to the wall or slide the battery or server into the cradle or rack.
Lift and lower is by hand 'brake' winch. The load stays in position until you wish to lower it by turning the handle anti-clockwise.
Features
159 Kgs Capacity.
Lifts to 3,000mm (forks down) and 3,600mm (forks inverted).
Legs adjustable from 740mm – 1,080mm (outside). 560 – 900 (inside).
Fork Length 570mm. Fork width 90mm. Min Fork Height 51mm.
Single central foot brake.
Top wheels enable the lifter to be pulled back into a vehicle, then rolled
Inside. Forks and legs are removable. Carriage can be locked.
Hand 'brake' winch allows load to rise or lower dependent upon rotation.
Perfect for raising loads including air conditioners, power boards, tiles, bricks, as a 'one man' operation.
Fitted with load wheels at the top, allows the operator to load the stacker into a vehicle easily. The forks and the legs are also fully removable. Unit weight is 80 Kgs. Central foot brake is fitted as standard.
Specifications
Model BR 159 has a capacity of 159 Kgs.
Forks are 570mm long. Fork low height is only 51mm.
Max lift height (forks down) is 3,000mm. With forks up, it is 3,600mm.
The legs are width adjustable from 740mm – 1,080mm (outside), or 560mm to 900mm (inside).
Fork / Platform Stackers
Fits through a standard doorway. Raises the load to vehicle or table height for ease of goods transfer. Operator moved, with swivel castors with brake at rear. Wheels are poly tyred for silent work. Great also for workshop use to raise the product up to your workable height.
PACK KING HIGH LIFT PALLET TRUCKS. Does all the heavy lifting for you!
The high lift pallet truck brings the best of both worlds to an operator. Firstly it is a hand pallet truck, raising a skid pallet, crate or stillage high enough above floor level to move it, then when the operator is ready to remove the load at a comfortable height, s/he can simply reach in or over – without bending.
In a printing works for instance, the operator needs to move individual sheets or packs of sheets of paper or cardboard from a pallet onto a press or cutter. With the high lift pallet truck it is simply a matter of raising the load to table height, then moving the required items across. Incremental height adjustments are quick and easy.
Used in furniture manufacturing to transfer sheets of heavy board across for cutting, planing, edging and trimming, the high lift pallet truck prevents aches and strains, and allows one operator to do the work of two.
Available in manual or battery lift, and with 1000 Kg or 1500 Kg capacities, and widths of either 540mm or 680mm, there should be a model to suit anyone and any situation.
A safety feature is inbuilt, with outriggers attached to the rear wheel frames, that allow lift to occur to around 300mm, then the outriggers sit on the floor in order to stabilize the load when at height. It is necessary to lower the load past the 300mm mark, in order to be able to roll the lifter again.
The battery model has a fail-safe manual lift and lower handle pump action, should the battery run out of juice.
NOTE: High lift pallet trucks are NOT suited for use with any pallet or bin with bottom boards or slats where the forks enter, as they will be prised apart during the high lift segment.
Contact Us Today
Manual Lift - Model FPS-04M. 400 Kg capacity.
Description
Hydraulic foot pump lift operation.
Lowering speed controllable.
Lift range: 85mm – 1500mm.
Fork length 650mm and fully width adjustable from 210mm – 563mm (outside).
Optional slip on deck available.
Battery Lift - Model FPS-04B. 400 Kg capacity.
Description
Lift range 85mm – 1500mm.
Battery lift via UP push button on console.
Lowering by DOWN button on console.
Emergency Stop fitted.
Battery Charge Indicator fitted.
Heavy duty battery and hydraulic power pack inside stylish cabinet.
Internal battery charger, with plug socket and indicator lights on side.
Charger cable supplied.
Looking for an adequate solution for your company?
Our inventory is full of useful and specific tools and equipment to help you with your packaging, shipping, and storing processes. And with over 30 years of experience, you can trust that you'll get only the best quality products and superior customer service when you work with us.
Contact Us Today
Some of our happy clients