We Stock A Large Range Of Packaging Products
Visit Our Showroom : Factory 8, 15 Stud Road, Bayswater VIC-3153
King Reel Lifta
Reel Lifta allows a single operator to raise a heavy roll or reel of product via the core, transport it to the machine, then slide the reel with no effort – due to the many bearings under the core – onto the receiving shaft or mandrel.
If the reel core is vertical, simply turn it over to allow the Reel Lifta jib to enter the core.
A flip-over latch on the jib, prevents the roll from moving during transit between the pallet and the machine.
The hand brake winch makes lifting easy, speedy and effortless. Pinpoint accuracy is assured every time. The carriage holds in position during the transfer. Rear castor wheel brakes prevent lateral movement. To lower the roll carriage, simply rotate the winch handle anti-clockwise. The load cannot lower on its own.
Get in touch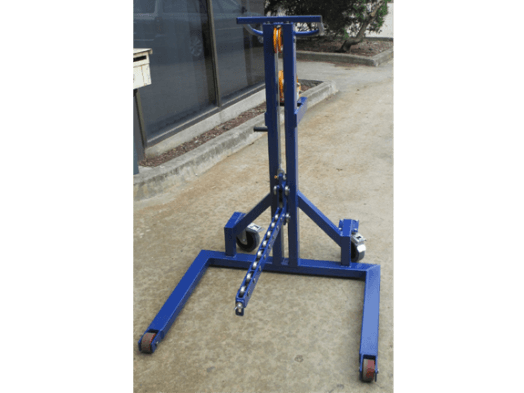 King Reel Lifta Models
Model KRLS-250/800/700 has a starting jib height to top of rollers of 70mm. 250 Kgs max.
load capacity. 800mm max lift height and a 700mm jib length.
Legs are 850mm apart. Finish is industrial enamel paint.
You can nominate any start and finish height and any leg width. Straight or splayed legs, and any load weight (within reason).
Reel Lifta negates the need for heavy lifting and placement of rolls / reels, thereby preventing insurance claims and musculoskeletal aches and sprains.
Looking for an adequate solution for your company?
Our inventory is full of useful and specific tools and equipment to help you with your packaging, shipping, and storing processes. And with over 30 years of experience, you can trust that you'll get only the best quality products and superior customer service when you work with us.
Contact Us Today
Some of our happy clients