We Stock A Large Range Of Packaging Products
Visit Our Showroom : Factory 8, 15 Stud Road, Bayswater VIC-3153
Stack Frames
PACK KING ADDS MORE STORAGE WITH THE STACK FRAME.
Last year Pack King released the ABLE Folding Mesh Containers. The pallet sized stillage folds down 6:1 for amazing low-cost shipping. It can be placed and secured onto pallet racking. It can be fitted with wheels, and even towed in a stock picking train.
This year Pack King releases the STACK FRAME range of stackable base frames. One of the most popular is sized 1,450mm long x 1,000mm wide x 1,500mm high.
Loading capacity: 1,500kg. Stackable 3 high.
Get in touch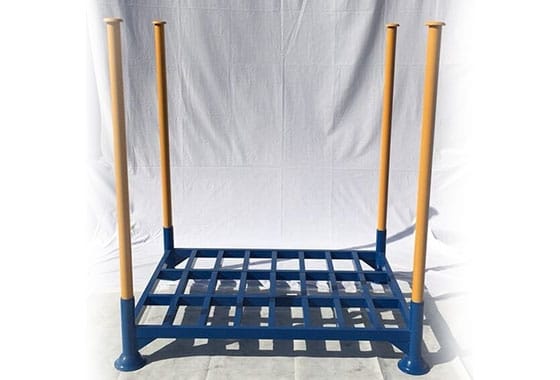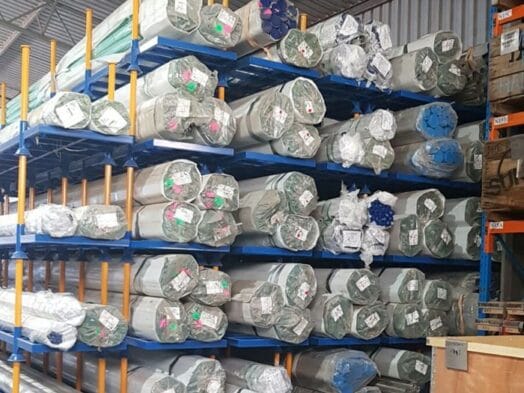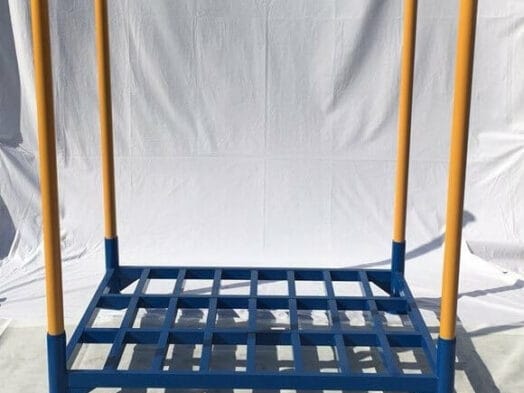 Powder coat finish with a blue base and yellow posts. This size will take a standard Aussie pallet with an overhang front and back of 90mm.
Alternatively, they can be ordered up in any size and post height, and are suited to any oversized or awkward shaped product.
The pictures above show firstly the base frame with removable posts; secondly, in use in a carpet warehouse simply by placing them end on to each other; and thirdly, in a bag warehouse where oversized frames were necessary for the large bags.
The best part is that when the bases are stacked onto each other, they only take up the footprint of one frame, so there is minimal yard or warehouse storage space required to store them, and like the ABLE Containers they are very cost effective to transport.
The base corners act as sleeves for the posts. The posts are capped to prevent water ingress. Locating the base cup feet onto the four capped posts is very easy. The load weight is transferred directly down each corner post to the floor.
STACK FRAMES are also great for that instant racking requirement. If you've Just moved in, or renting a temporary space, or when you have a seasonal influx of stock, then STACK FRAMES are a great option. Simply stack them up and move, or de-hire them when you are finished. No fuss, just pull out the corner posts. No dismantling of beams or making good the floor.
Pack King sell and hire out Stack Frames. Price is dependent upon quantity and length of time. Each base frame is numbered for ease of identification. RFID and GPS can also be optioned for tracking purposes.
For a complete quote including shipping, contact Ron Mileham on ron@kinggroup.com.au
Contact Us Today
Looking for an adequate solution for your company?
Our inventory is full of useful and specific tools and equipment to help you with your packaging, shipping, and storing processes. And with over 30 years of experience, you can trust that you'll get only the best quality products and superior customer service when you work with us.
Contact Us Today
Some of our happy clients