We Stock A Large Range Of Packaging Products
Visit Our Showroom : Factory 8, 15 Stud Road, Bayswater VIC-3153
Aluminium Folding Platform Ladders
Folding Platform Ladders are the ultimate space saving access ladders. Fold them up against the wall when not required; put them over your shoulder to move them to any spot, then simply pull the legs apart and the ladder is ready for use.
To calculate which model you need, measure to the top of the highest load, then deduct 1.5 Mtrs (the height reach of the average person), then look at the model offerings where the top deck is at that height. Of course, if most of your staff are short, then go for the next highest deck on the list. Finding the right folding platform ladder can make all the difference in your business, in terms of both productivity and output, as well as safety.
Get in touch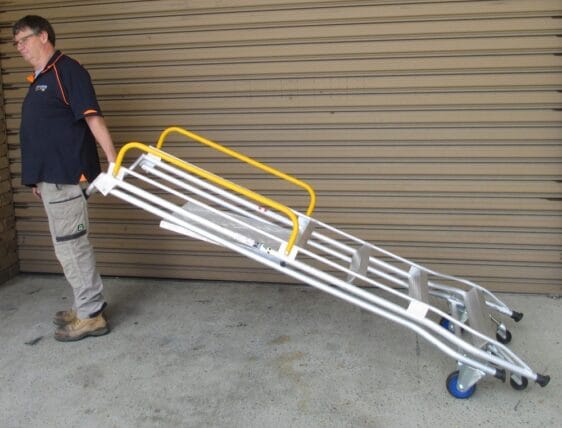 If you select the ladder fitted with sprung castors, when you step on the first rung, the springs settle the rubber pads onto the floor, making the ladder ultra-stable. Castors also make it easier to move the ladder around.
Options include a Safety Rail that flips over at the rear once you are on the top deck – to prevent accidental step backs. There is also an optional Load Tray that fits over the front rail, so that you can place items on as you pick them. Optional Lever Operated Castors are also available (rather than spring operated).
Another option is the Tow Pack, comprising a set of fixed castors fitted to the rear frame. When the ladder is tilted backwards, the rear wheels come into play. Makes moving the ladder around easier, especially if you need to take it with you on a truck to another location, as it stays folded yet remains manoeuvrable.
Platform heights start at ½ Mtr and range through to 3 Mtrs (4.5 Mtr max pick height). We have weight and footprint charts should you need them.
Load rating is 200 Kgs up to 2 Metres high, then it de-rates to 150 Kgs. Footprint charts available on request.
All Folding Platform Ladders are supplied with Powder Coated Yellow Safety Hand Rails that simply bolt on. If choosing sprung castors, they are supplied loose and need to be fitted – a five minute easy assemble.
They are supplied as a flat pack on a basic wooden skid for minimum weight and volume, making shipping costs reasonable (we can quote great freight rates).
For all further enquiries regarding our sought-after range of folding platform ladders, make sure you get in touch with the Pack King team today.
Get in touch
Looking for an adequate solution for your company?
Our inventory is full of useful and specific tools and equipment to help you with your packaging, shipping, and storing processes. And with over 30 years of experience, you can trust that you'll get only the best quality products and superior customer service when you work with us.
Contact Us Today
Some of our happy clients