We Stock A Large Range Of Packaging Products
Visit Our Showroom : Factory 8, 15 Stud Road, Bayswater VIC-3153
Aluminium Order Picking Ladders
Easy Move Order Picking Ladders are fully welded from marine grade thick wall aluminium, so they are extremely robust and conform to AS/NZS 1892.1:1996 Standards.
Sizes range from 816mm to 3800mm to the platform. The platform is a massive 600mm wide x 750mm deep chequer plate for maximum grip.
Raise the front to contact the rear fixed castor wheels, then move the ladder as required.
The load rating is a massive 250 Kgs – due to the fully welded construction.
Options include: Safety Gate – that swings down behind the operator, to prevent inadvertent back steps. Load Tray – that bolts on to accept product during picking. 200mm diameter wheels – for easier moving over rough surfaces.
Footprint charts available upon request.
Get in touch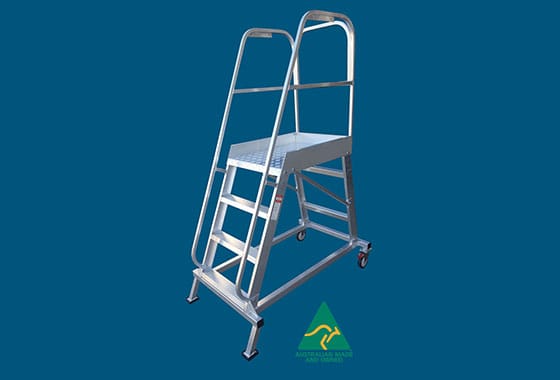 Looking for an adequate solution for your company?
Our inventory is full of useful and specific tools and equipment to help you with your packaging, shipping, and storing processes. And with over 30 years of experience, you can trust that you'll get only the best quality products and superior customer service when you work with us.
Contact Us Today
Some of our happy clients