We Stock A Large Range Of Packaging Products
Visit Our Showroom : Factory 8, 15 Stud Road, Bayswater VIC-3153
STEEL WIRE MESH STORAGE CONTAINERS & BASKETS
Able containers are a Wire Mesh Container with a heavy-duty steel matrix base and stacking feet (to three units high). Pack King is a leading wire mesh containers & storage supplier in Melbourne.
One long side has a half opening pull down door, or complete access if required. Capacity 1,000 Kgs.
Fitted with: a) Racking Bars to enable the container to be placed onto pallet racking. b) Tow Hitch and Drawbar plates to enable bolt on attachment of the Draw Bar and Tow Hitch options. c) Wheel / Castor Plates for bolt on of 2 x fixed and 2 x castor wheel (125mm dia. Poly tyred. Ball bearings) option.
Contact us today to see how our range of wire mesh cages can benefit you or scroll down to read more about their unbeatable features.
Get in touch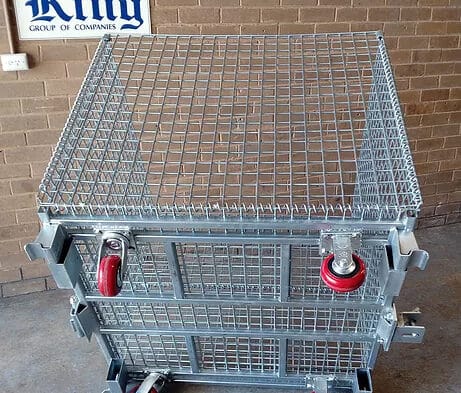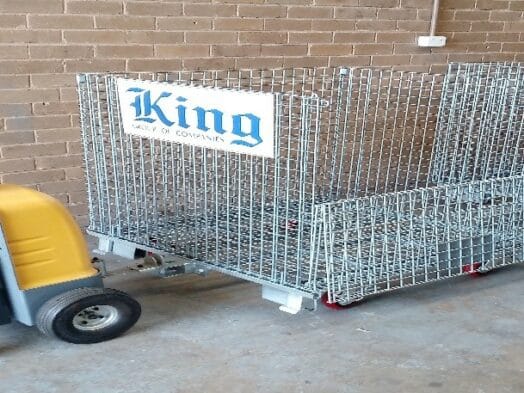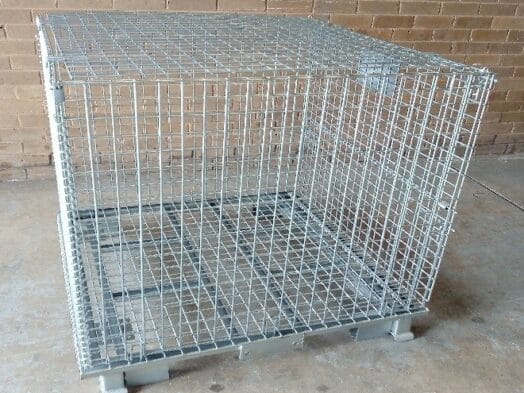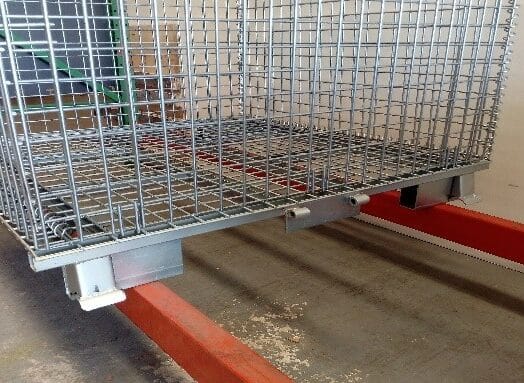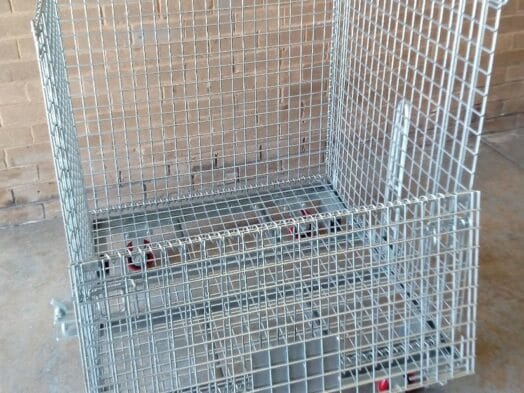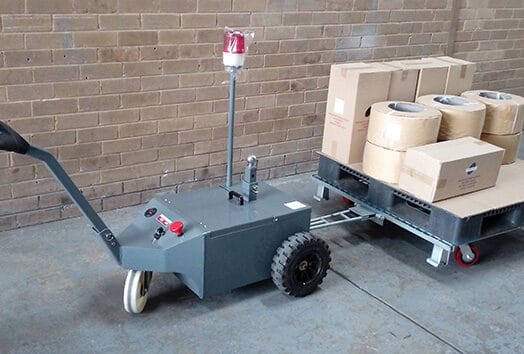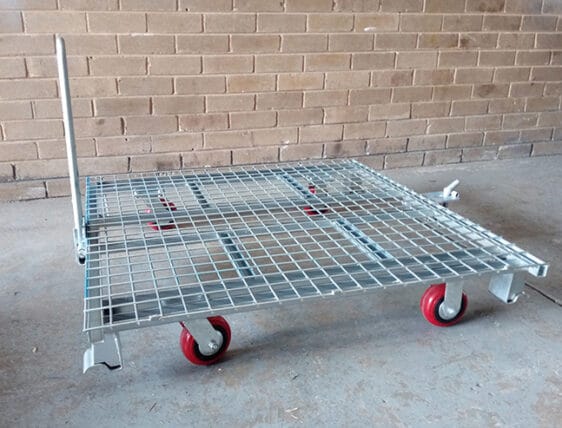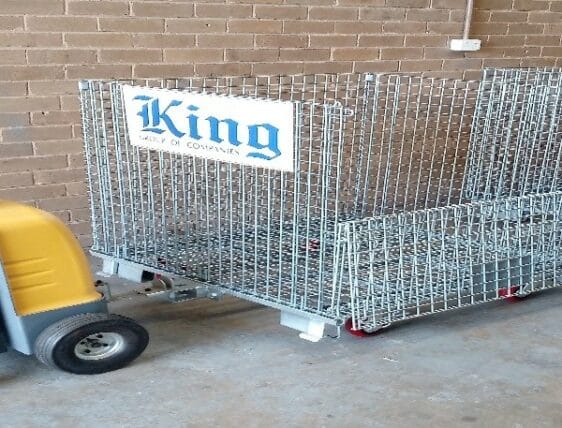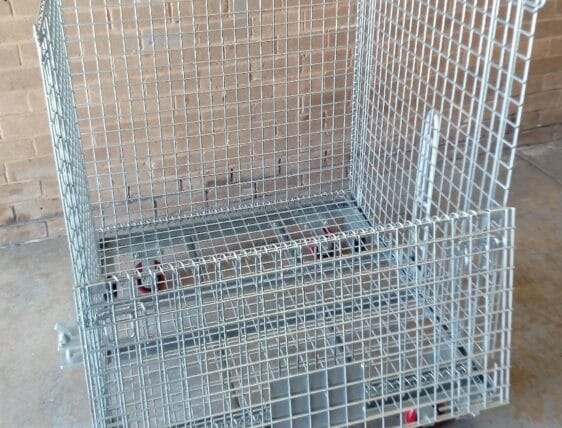 Features
External Size: 1100mm x 1170mm wide x 1100mm high.
Internal Size: 1030mm x 1080mm wide x 950mm high.
Foldable: Can fold up for low cost return transportation. 5:1.
Rackable: Fitted with Racking Bars so the container (without wheels) can be placed onto a pallet rack.
Stackable: Can be stacked three high. Contents can still be accessed via half opening door.
Securable: Using the lockable mesh top cover. Total security using the ribbed plastic sheets option.
Movable: Using the bolt on optional wheels and castors.
Towable: Using the Tow Bar and Hitch bolt on option.
Hireable: Any quantity can be hired for any length of time. Conditions apply.
Trackable: Can be fitted with RFID and GPS tracking systems as required.
Freightable: Two containers side by side on a truck, has little wasted space. Can be double stacked also.
The ABLE Container can be raised from either of the two long sides by forklift, hand pallet truck or High Lift Pallet Truck when no wheels are fitted. Forklift and narrow lifters up to 540mm wide when wheels are fitted.
A spring assisted scissor lift table can be fitted into the ABLE Container baskets, to raise the contents up to operator height, then descend under weight, therefore utilizing the whole container whilst preventing bending down to remove the contents. Great for bed linen, parts, stock picking, etc. Sides can be lined with ribbed plastic panels if required.
Your company identifiers, logos, unit numbering, addresses, contact numbers, etc., can be applied.
Tow Tugs of varying capacities are available to make up a stock-picking unit or train.
The wire mesh stillage is so versatile, that we start with the basics, that of the flatbed, fitted with wheels. In this configuration, the trolley and the stock picking pallet can be moved around your warehouse, using either your forklift or a Tow Tug.
When the task is completed, the order is removed with a forklift or walkie-stacker, then stretch-wrapped and labelled, ready for dispatch.
Several ABLE bases can be hitched in line using the optional draw bar and tow hitch. Each base has 1,300 Kgs capacity. When un-hitched, each loaded base can be easily pushed. ABLE bases and mesh sided containers can be mixed in the 'train'.
So, when it comes to finding the right wire mesh cage for the job at hand, make sure you turn to the experts here at Pack King for attentive services and professional advice.
The ABLE Folding Mesh Container – Specification
MODEL: AC-11
DIMENSIONS:
External – d x w x h: 1,100 x 1,170 x 1,100mm
Internal – d x w x h: 1,030 x 1,080 x 950mm
Folded – 200mm high
Pricing on application. The more you buy, the cheaper they become.
Remember that all ABLE Folding Mesh Containers are fitted with racking feet, so that you can store them on your standard pallet racking beams.
They also have wheel plates, tow hitch and tow bar attachment plates fitted, ready to accept these options, any time you choose to add them in the future.
That's what makes ABLE Containers different and better.
Wire Mesh Handling Containers
Wire Mesh Handling Containers are perfect for all commercial businesses looking for an easier way to store items.
The Wire Mesh Handling Containers provide businesses with security and easy storage for their products.
What are Wire Mesh Handling Containers?
Wire Mesh Containers are heavy duty, collapsible, foldable and stackable containers that make packing, moving and storing items simple.
They are made of steel and are galvanised to make the wire storage baskets have long lifetime. We have designed and manufactured our metal mesh containers so that provide maximum security and can be stored in a variety of places.
Wire Mesh Containers normally hold heavy duty items such as machinery and equipment but can also hold a variety of other things such as pillows.
Why do you need it?
Wire Mesh Containers provide security and stability in your business. A wire mesh container is a container that will not break easily and is difficult for unauthorised people to get in to.
As a business you need wire mesh containers for a few reasons:
Equipment Carrier: Wire Mesh Containers come on wheels so if you need to store or move heavy equipment or machinery, you should probably choose to use a Wire Mesh Storage Container.
Valuables: because of the heights of the containers unless an unauthorised person(s) has the key, Wire Mesh Containers are very secure to store the business's valuable items and products.
Inventory: Wire Mesh Containers are a great way to store products in a basket like container especially open or miscellaneous items. Additionally, this will allow you to have a better idea of what products sell quickly or are kept in storage.
When would you use it?
This differs depending on the business but in an industrial or commercial business you would use Wire Mesh Handler Containers all the time.
As mentioned above wire mesh handler containers are great for wire basket like storage and security, but they can also be used to ship items if needed.
Wire Mesh means that the containers are ventilated making it the perfect storage container for transporting natural goods.
How easy is it to use?
Very easy. To set up just unfold the sides and lock in place. To collapse, unlock sides and fold back down in correct order.
Other than that, there are no steps to maintenance or use as they are very easy to use and have a long-life cycle.
Will it keep my items safe?
Yes, they will. Wire Mesh Handler Containers are the safest ventilated storage containers for industrial use.
They come with heavy duty wire mesh that is designed to protect what's inside and keep out whatever is outside.
Contact Us
Need a Wire Mesh Handler Container? Come to the experts to fulfil all your needs regarding industrial packing supplies and storing.
Pack King will supply you with the highest quality collapsible and stackable wire mesh handler container for your business.
Just call 9720 0425, shoot us an email, fill out the contact form or come and visit our Baywater store, and our friendly team will help you to secure the right wire mesh cage for any job.
For a complete quote including shipping, contact Ron Mileham on ron@kinggroup.com.au
New. Bulk Bag Inserts Available For The Able Folding Mesh Containers
Now you can load bulk product into a Flexible Intermediate Bulk Container (FIBC), transport it safely in the container, then fold the container and the bag for return to the sender. (The inside of the ABLE Container is approx. 1100 x 1100 x 1100 high. Load cap 1000 Kgs).
Here's another product. We can also supply poly bag inserts for the FIBCs for those who need to adhere to strict hygienic packaging (bag in bag).
Simply place the FIBC into the mesh container (then add the plastic insert bag if required), then pull each FIBC bag corner loop down on the outside and secure it with a plastic tie. The bag is now fully open and ready for filling.
The receiver can unload the FIBC using a manual scoop or vacuum, or by releasing the loops and pulling the bag out from the mesh container using forklift tines.
Returned ABLE Containers are stackable at 6:1 ratio so the freight savings can be considerable in a closed loop system.
With a modification to the underside of the ABLE Container, it is also possible to rotate the container and contents.
The types of FIBC's available are shown below.
Contact Ron Mileham. ron@packking.com.au for prices and to discuss your requirements.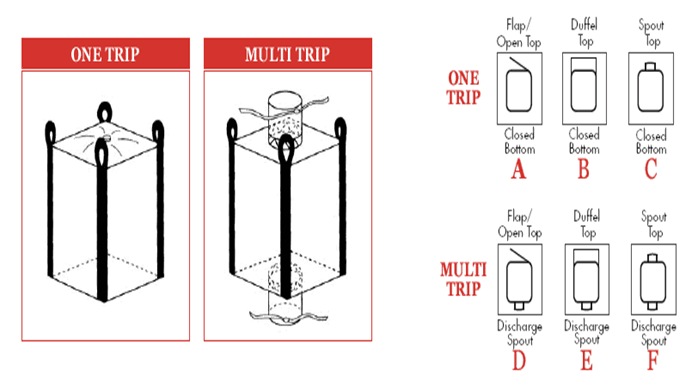 Contact Us Today
Optional Extras
Bolt On 2 x Fixed + 2 x Swivel Castors. 125mm diameter.
Bolt On Tow Bar + Tow Hitch.
Mesh Security Top.
Plastic Sheet Side & Base Liners.
Tow Tug. 1 tonne capacity.
Tow Tug. 2 tonne capacity.
Able Container Hire
Minimum quantity: 10 units.
Minimum hire period: 3 months. (Add freight both ways).
Container only.
Fitted with wheels.
Fitted with wheels, tow bar and tow hitch.
Freight
Add freight ex Bayswater, Melbourne (we can quote delivery pricing).
Notes
Once wheels have been fitted, the ABLE Container is not able to be placed on racking.
Wheels and plastic liners are wear items, and they can be bought separately as required.
Storage mesh Containers can be marked, numbered and fitted with RFID and GPS as required.
Looking for an adequate solution for your company?
Our inventory is full of useful and specific tools and equipment to help you with your packaging, shipping, and storing processes. And with over 30 years of experience, you can trust that you'll get only the best quality products and superior customer service when you work with us.
Contact Us Today
Some of our happy clients