We Stock A Large Range Of Packaging Products
Visit Our Showroom : Factory 8, 15 Stud Road, Bayswater VIC-3153
Stretch Film. General Information
Pack King supplies Stretch Film for both manual and machine applications.
HAND STRETCH FILM can be used straight from the roll, using plastic roll inserts in each end, to allow the roll to rotate easily without binding and creating frictional heat in the operator's hands. When the end of the film is attached to the load, the operator moves backwards, whilst pulling the film to stretch it, in order to bind the load.
Get in touch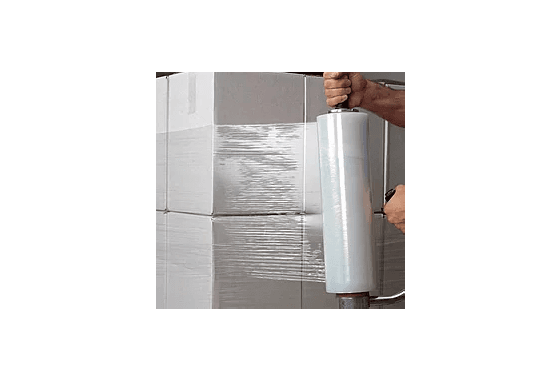 Hand Stretch Film
A Hand Film Dispenser allows the operator to feed the film onto the load whilst holding the dispenser handle. The other hand is tensioning the film using a brake lever or knob.
In each case the operator needs to walk backwards, whilst stretching the film. The operator is prone to strains in the back and arms due to pulling, bending and lifting outside the recommended comfort zone for human work effort.
Before moving on to an expensive semi or fully automated stretch wrap machine, you may wish to consider the Pack King Rapid Wrapper Powered Turntable Stretch Wrapper. It has no mast to limit the width of the load. The foot control rotates the turntable. You simply dispense stretch film on to the load and adjust the tension. The Rapid Wrapper does all the work.
Hand Stretched Film in Melbourne is available from Pack King in various gauges from 17um (universal microns), 20um, 23um and 25um. Width is 500mm. Roll weight is between 2.5 – 3 Kgs. 4 rolls per carton.
Film is also available in black for security purposes. It pays to pay more for high-quality black film, as the more carbon black there is in the film, the less opaque the film will become, the more it is stretched.
For more information on our comprehensive and trusted services in stretch film wrap, simply pick up the phone and call the Pack King team today.
Machine Stretch Film. General Information
Pack King is one of the a few stretch film suppliers in Melbourne that offer a range of 7-layer cast stretch film that is capable of stretching up to 300%.
Film stretchability is dependent upon many factors; the stretch machine; the film carriage; the load composition; the 'force to load'; the composition of the film; the manufacturing process; product handling, and much more.
You may be paying too much per load to be protected by stretch film. The best you can do is to confide in a specialist, who can determine from experience how to save you money. Pack King has specialist help on hand to help with all of your wrapping / strapping / protection problems.
Standard Machine Stretch Film
Standard Machine Stretch Cast Film is available in 17um, 20um 23um and 25um gauges. Cast film is very low noise, extra clarity, extra stretch and resilience to puncturing.
There are 32 rolls per pallet lot. Prices are higher for small quantities. We compare in price per roll very favourably in the marketplace, then we have the savings per roll, per pallet wrapped.
Make sure you turn to the professionals at Pack King for all your stretch film wrap needs.
Pack King Stretch Wrap Machines
There are many different types of Stretch Wrap Machines on the market.
Some are better than others. Some have a brake, and use 'force to load' stretching, whilst others use internal film carriage rollers to pre-stretch the film. Pack King supplies all types of Stretch Wrap Machines, so contact us for the best combination of film and machine for your products.
Our pallet wrapping plastic systems make packaging outgoing shipments an efficient, straightforward, and hassle-free process, and allows our clients to speed up the output of their business.
Other films
Pack King has a wide range of packaging films for your business, from sealing trays, to shrink packaging, to cryovac bags, covers, addtop covers, full pallet bags, bin liners, timber pack protective film, UV protection storage films, and many others. Just contact Pack King.
If you would like to know more about their differences and specialisations, or you would like to enquire about a specific stretch film wrap product, please contact our experienced, professional staff at Pack King.
Get in touch
Looking for an adequate solution for your company?
Our inventory is full of useful and specific tools and equipment to help you with your packaging, shipping, and storing processes. And with over 30 years of experience, you can trust that you'll get only the best quality products and superior customer service when you work with us.
Contact Us Today
Some of our happy clients