We Stock A Large Range Of Packaging Products
Visit Our Showroom : Factory 8, 15 Stud Road, Bayswater VIC-3153
King Roto-rack Slide Shelf
Pull out shelf for existing racking. Access shelf from above.
Fit two or three per bay. Single slide locking. For standard or Euro pallets.
HOW CLEVER IS THIS?
ROTO-SLIDE SHELF fits directly to the beams on your pallet racking, allowing the operator to reach the back of the pallet by simply sliding the shelf out, or alternatively to allow a crane to access the shelf.
So if you are storing dies or awkward or heavy parts on the racking and you don't want to wait for the forklift, or you prefer access by crane, then the ROTO-SLIDE SHELF is ideal.
Companies such as SEW Eurodrive are fitting their racking with ROTO-SLIDE SHELFs as their motor/gearbox combinations are heavy and large, and one operator using a crane, can pick and place the units from the racking onto their work station for modifications or checks, then directly into shipping crates, without having a potentially dangerous forklift in the area.
Get in touch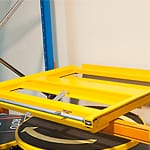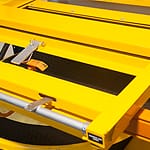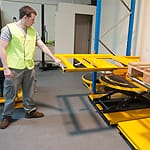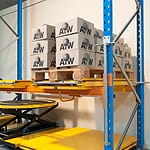 HOW DOES IT WORK?
The sliding shelf is fabricated from tough steel box section, which is directly clamped to both racking beams. Precision bearing rollers make using the ROTO-SLIDE SHELF easy, and with very little force required
The shelf extends approx. ¾ the way out. A stop prevents further extension, and a unique locking system prevents more than one shelf being operated at one time, thereby preventing toppling.
HOW DO I CALCULATE MY NEEDS?
Firstly determine the capacity of your racking – per shelf and overall.
Then decide whether you would like one two or three slide shelves on the beams, then divide the capacity of the beam by the number of shelves. So if your racking has 440 lbs (1000 Kgs) capacity per bay, and you would like two shelves, each shelf will have a safe working load of 200 lbs (450 Kgs) allowing 20 lbs (45 Kgs) for each shelf weight). Overall height is only 4.5″ (115mm). Maximum load capacity on one ROTO-SLIDE SHELF is 666 lbs (1500 Kgs)
The number of ROTO-SLIDE SHELF fitted will depend on the size of the pallet you use. ROTO-SLIDE SHELF comes in two standard sizes, but you can ask for any size to be quoted on.
Your racking must be bolted down prior to fitting the shelves. The beams must also be secured to the uprights by bolts, to prevent them from moving.
Any questions you may have, feel free to consult your racking provider, who will also be able to provide you with written documentation and a load compliance placard for each rack. For any technical specifications, please consult with Pack King.
King Roto Rack Models
Model RSS-1 – 48″ x 48″ (1,220mm x 1,220mm)
Model RSS-2 – 48″ x 33.4″ (1,220mm x 850mm)
Model LS – Locking system to prevent more than one shelf being out
* GST and shipping not included
Combined shipment rates available
Quotes for door to door delivery or door to port delivery available.
For a complete quote including shipping, contact Ron Mileham on ron@kinggroup.com.au
Contact Us Today
Looking for an adequate solution for your company?
Our inventory is full of useful and specific tools and equipment to help you with your packaging, shipping, and storing processes. And with over 30 years of experience, you can trust that you'll get only the best quality products and superior customer service when you work with us.
Contact Us Today
Some of our happy clients